Three classical musicians and great friends, an English violinist, a Portuguese pianist and an Armenian cellist, decided to form a piano trio. They had all at one time or another performed together, but never as a piano trio. A unified desire to explore this vast and magnificent repertoire finally bore fruit and "Trio Aeternus" was formed. After a very successful debut in Badajoz, Spain, the group was invited to perform at the Gulbenkian Foundation, in Lisbon.
Embarking on an innovative project, that culturally brought Armenia and Turkey together, lead to the invitation of celebrated Turkish violinist Cihat Askin, who performed with Trio Aeternus at the Gulbenkian in October 2015.
This was followed by a presentation of the same programme including the Piano Trio by Arno Babajanian, in Istanbul, in November of the same year. Further concerts took place in Spain and Portugal, culminating in 2019 with a recording, dedicated to the 150th anniversary of the major Armenian composer, Komitas. Trio Aeternus performed the same repertoire (with works by Agoshian, Babajanian, Grigoryan and Komitas) in December 2019, at the Gulbenkian Foundation, to coincide with the 150th anniversary of Calouste Sarkis Gulbenkian.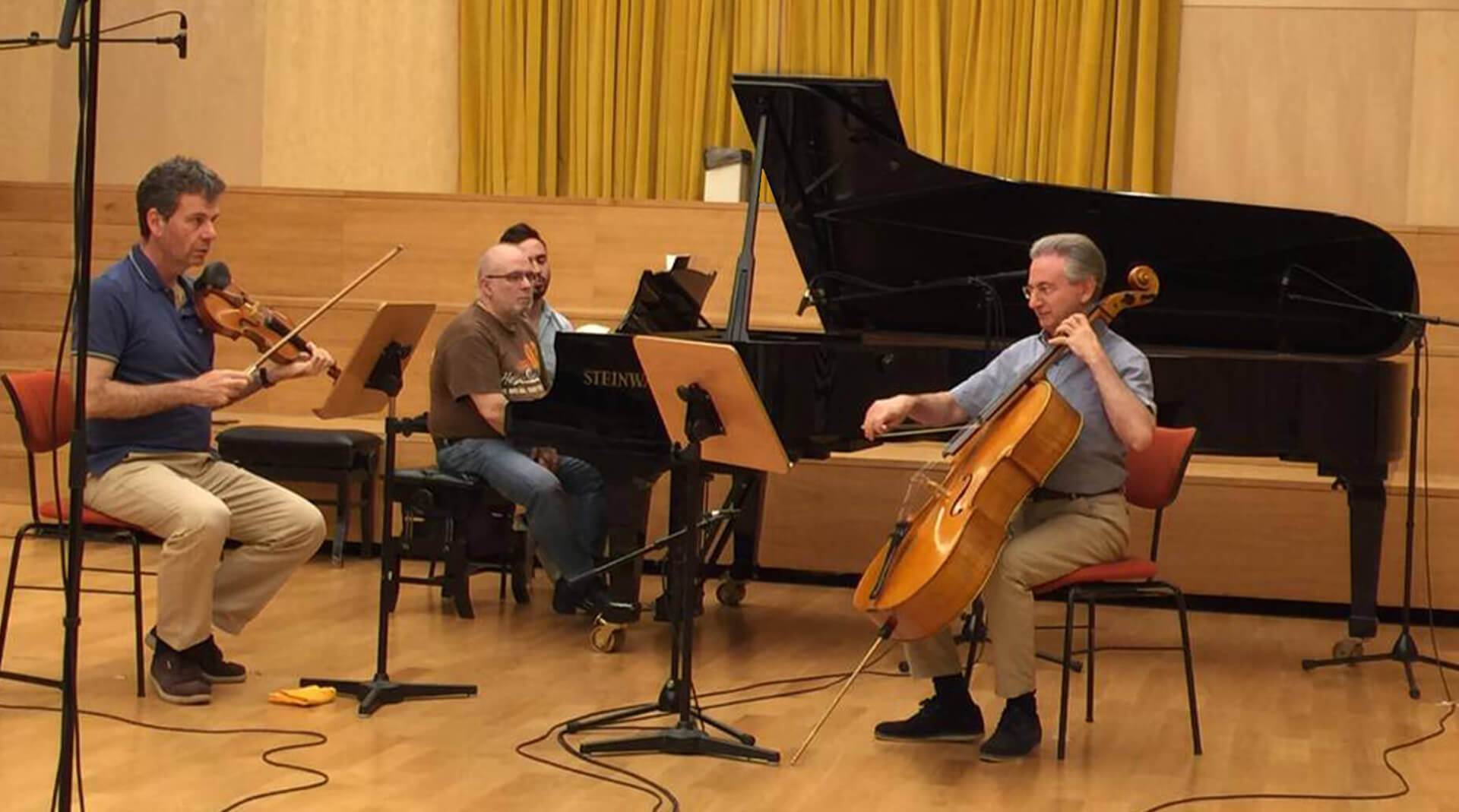 Alexander Stewart, a Graduate of the Guildhall School of Music and Drama, moved to Portugal in 1989 and is currently one of  the leaders of the "Orquestra Sinfónica Portuguesa" based in the "Teatro Nacional de São Carlos"( the Lisbon Opera House).
Cellist Varoujan Bartikian, originally from Armenia, has been performing the cello as a soloist since the age of 10, and joined the Gulbenkian Foundation Orchestra in 1989, where he is now Principal cello. He is a regular soloist and chamber-music performer.
Pianist João Paulo Santos, who graduated from Lisbon's National Conservatoire, is a Gulbenkian Foundation Scholarship holder and completed his studies in Paris with Aldo Ciccolini (1979-1984). For the past four decades he has been associated with the "Teatro Nacional de São Carlos" (the Lisbon Opera House), first as Principal Chorus Conductor and now as Director of Musical and Stage Studies. Artistically, he has distinguished himself as an opera conductor, concert pianist and researcher of lesser-known and forgotten works by Portuguese composers.
Alexander Stewart and João Paulo Santos first met in Portugal, in 1989, and since then have performed together many times in recitals. Since both were living in Portugal, they became great friends with the Armenian cellist Varoujan Bartikian. True friendship is eternal as is great music, thus the choice of the name "Aeternus".